"You cannot live a perfect day without doing something for someone who can never repay you."
John Wooden
Connectshare is designed specifically to create and foster meaningful relationships of trust among community business leaders. Membership provides a carefully designed format and tools required to effectively share connections and accelerate new business relationships quickly.
"Connectshare is not just another networking event where people come and hand out business cards or are forced to give out referrals to people they don't even know." – Brent Crabtree
BE OUR GUEST
LEARN MORE
Watch video to learn more.
Each month connect with old & new team members. Mingle face to face with hundreds new business leaders to connect & share even more.
MEET MONTHLY
Meet each month with a new strategically designed team of non competing decision makers.
RECONNECT
Reconnect with that same team two weeks after the event to share connections & solutions with each other
FOLLOW UP
Follow up on shared connections or schedule one-on-one meetings with team members to further grow your connections
Watch Video on How ConnectShare works.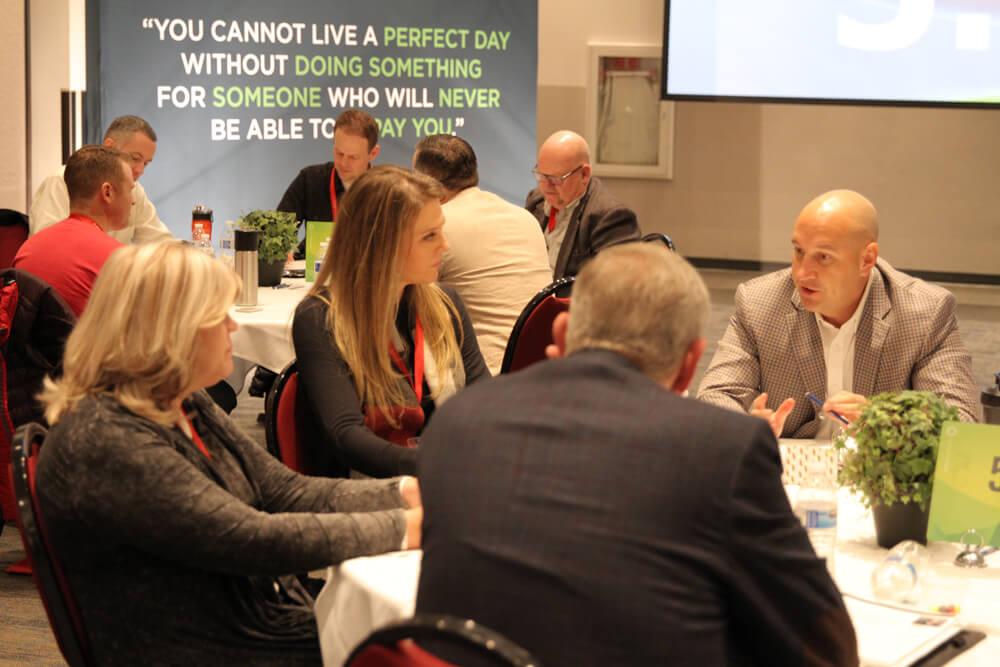 With ConnectShare, you'll tap into the 1,000's of connections from 100's of Business Leaders month over month and increase your business growth.
ConnectShare is a diverse group of business leaders who are driven to help you build your business dramatically. Draw on the experience and resourcefulness of peers who really desire to help you in every way they can.
You won't find another organization with a more effective approach to helping C-level executives and business owners share meaningful connections that drive results. It's been our winning formula for over 10 years.
BE OUR GUEST
TESTIMONIALS
Hear what our members are saying about ConnectShare
"Connect Share has allowed me to have face to face meetings with countless potential partners over the last year."

Paul Hutchinson

Rock Fund
"You feel like you are doing more than just business. You are actually helping someone else."

Bruce Brand
"It's different from anything I've ever experienced. ConnectShare has been a great return on investment."

Gary Heaton

ValPak
"I highly recommend ConnectShare to other business associates because it's a very effective way to build new relationships."

Rick Clayton

Ken Garff
"ConnectShare has been a great venue to reach the community that Boise State serves. The networking events are well organized and effective, which allows to maximize the time spent making valuable connections. I definitely recommend ConnectShare for those who want to create trusted and powerful connections."

Michel Bourgeau

Development Director | BSU Athletics
"ConnectShare has proved invaluable to The Smith Group and its goals. It has been remarkable how many opportunities have fallen into our lap through the people we have met here and how the connections we've made have helped us accomplish things we would have had a difficult time with otherwise."

Cannon Smith

The Smith Group
"I have made many business connections who have also become very good friends. The give first model engenders an attitude of service and allows me to use my personal and professional network to serve and help others be successful. The personal satisfaction derived from these experiences is priceless."

Mark Penrod

Miller MotorSports Park
Come as a guest to our next event.
If you are involved in the decision making process of your company and have an abundant serve mentality, then come connect with hundreds of business leaders each month who are looking to help grow your business. Simply fill out the form and we will send you all the details.
May 25th
June 29th
July 27th
August 24th
September 21st
October 19th
November 16th
December 14th
January 25th
February 22nd
March 28th
April 25th
May 23rd
June 27th
July 25th
August 22nd
September 26th
October 24th
November 21st
December 12th